Education
, as well as health, is a priority for Partage.
For a sponsor,
visiting
the children is a moment rich in emotion.
Thanks to Habari, the newspaper of the association and to the exchanges of mail with the children, the contact with the field is permanent.
Following a
round in bush
is the best way to realize the in-depth work accomplished by association.
Wedged between Rwanda, Uganda and Lake Victoria, the small area of
Kagera
could be a paradise.
More than 10 years ago, I received a mailing from Partage Tanzania. The association was developping a program to help the orphans of Kagera, small area of Tanzania supposed to be the cradle of AIDS in Africa.

Years after years, the situation improved and three times I could go and see the work achieved by all the team.
A small guided tour gives you an outline of my visits in Tanzania.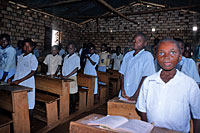 Partage is the Tanzanian sponsoring part of France Parrainages.
Join us quickly, we need you !